ARTICLE
The 9 Best Nonprofit CRM Solutions (Updated for 2023)
When it comes to donor data, there's a lot to keep track of. Giving histories, gift amounts, and frequencies can reveal a lot about future willingness to give. Plus, understanding motivations, interests, and passions can help you connect with them on a deeper level. A nonprofit CRM helps you keep all this information organized and easily accessible.
In this guide, we'll cover what you need to know about nonprofit CRM solutions and the best platforms to consider. Here's what to expect:
Your nonprofit's CRM is an essential tool for scaling up your fundraising and donor engagement efforts, so your team should be experts in knowing what type of platform to look for.
What is a nonprofit CRM?
A nonprofit CRM (also referred to as a donor management system) is a software platform that allows nonprofits to store, update, and report on supporter data. From tracking conversations and donations to event registrations, you can note every interaction you have with a supporter in your nonprofit CRM.
Once you have information about your supporters' interests, engagement histories, and past interactions with your organization, you can reach out to them with more personalized messages that speak to their motivations. This type of stewardship helps boost donor retention.
Here are three ways nonprofit CRM software can benefit your organization:
Improve donor cultivation: Your CRM solution can help identify mid-tier and major donor prospects for mid-tier and major donors. You can create a communications cadence to reach out to these supporters, help them build stronger connections to your mission, and ultimately send them a personalized donation request based on their giving capacity and past donation amounts.
Foster more genuine donor stewardship: Your CRM software can level up your donor appreciation strategy, helping you track donors' preferred communication platforms and ways they like to be recognized for their support.
Increase donor retention: Some nonprofit CRM solutions (like Bloomerang!) are specifically designed to help nonprofits retain more donors. Bloomerang gives users access to a dashboard that actively tracks your retention rate to keep it top of mind for your entire team. Plus, donor engagement scores and supporter timelines help you identify your most engaged supporters who are good candidates for maintaining or increasing their giving.
Once you understand the purpose of this software, you can start distinguishing between different nonprofit CRMs and choose the one that's the most appropriate for your organization's needs.
Essential nonprofit CRM features
Different software solutions prioritize different features to help you assess donor data in different ways. However, most nonprofit CRMs share a few standard features to help nonprofits evaluate and act on donor data.
Ensure any CRM you invest in offers features such as:
Donor profiles
Nonprofit CRMs automatically create donor profiles for supporters who contribute or interact with your nonprofit. These profiles include relevant information based on your goals, such as contact information, interests, engagement history, and more.
Use the data in your donor profiles to create donor segments, which are groups of donors who share similar characteristics. For example, you can create segments for new donors, long-time donors, major donors, corporate donors, and so on. Use your CRM to send personalized marketing content to each segment that's relevant to their interests to encourage further engagement.
Marketing tools
Your nonprofit CRM should include several marketing solutions (or integrations with top marketing platforms).
Be sure your nonprofit CRM can create both:
Letters and mailings. Design and save direct mail communication documents like solicitations and acknowledgments. Saving these in your CRM makes it easy to send them quickly when necessary.
Engaging emails. Similar to direct mailings, make sure you can create and save templates for your nonprofit's emails. This can help save time when drafting donor outreach campaigns.
As you create these outreach materials, it can also be useful to run them through communication audit features. For instance, the Ahern Audit runs the "you test" and grade-level tests. These assessments ensure you center donors in your messaging and write between a 6th- and 8th-grade reading level to make your messages easier to skim.
Custom dashboard
A custom nonprofit dashboard will track key performance indicators and present findings front and center for your team. For example, Bloomerang's dashboard data updates daily with donor retention information.
Your dashboard should provide a high-level overview of your progress toward achieving your goals, specifically the goals related to your fundraising strategy. Be sure you can customize the views on this dashboard so that you can keep track of the metrics most important to your organization.
Integrations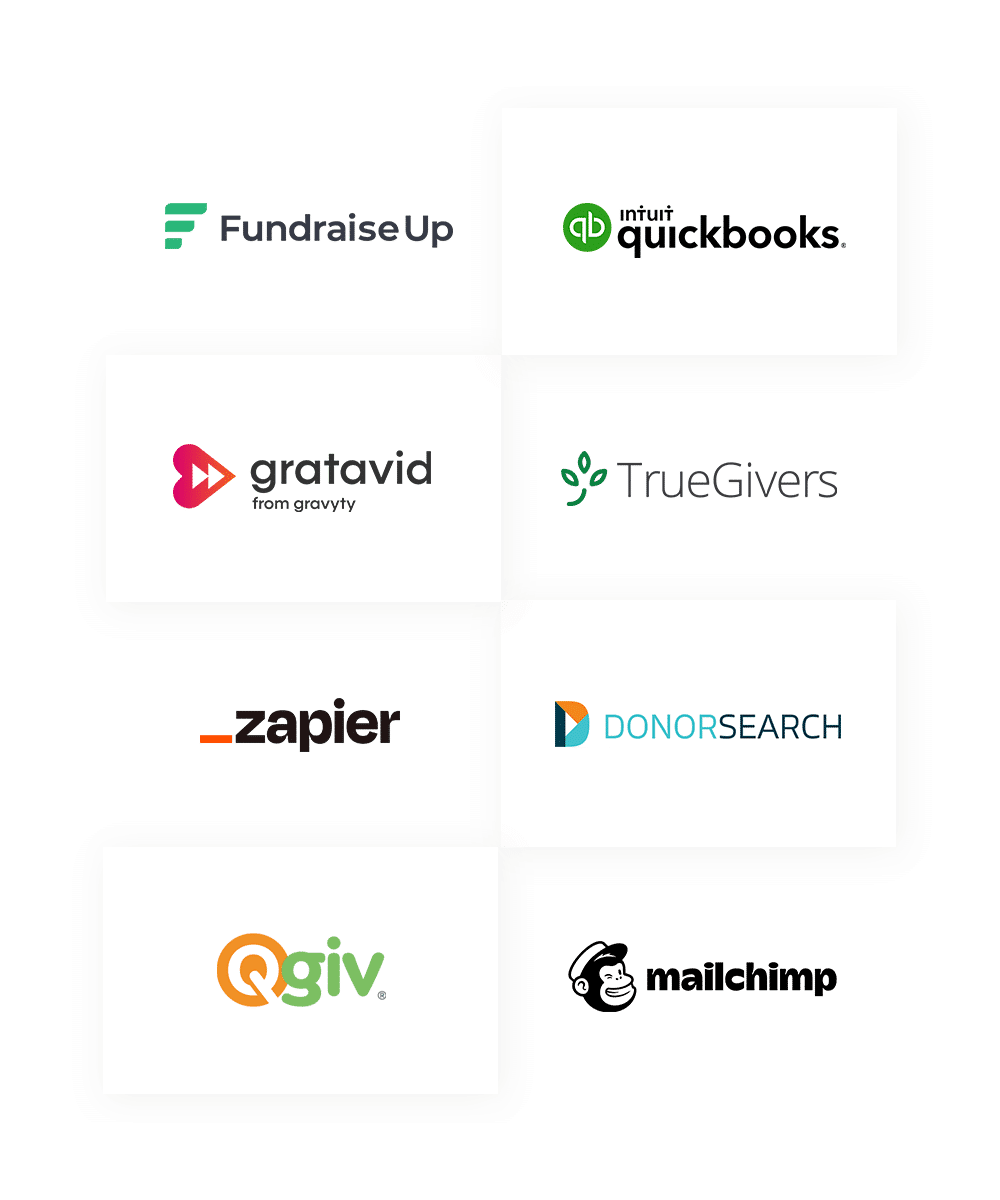 Manually entering data can take a lot of time and is subject to human error. Integrations save time and reduce data transmission issues. Search for a nonprofit CRM that offers additional software integrations to simplify your nonprofit's ongoing tasks.
Look for CRM software that integrates with other commonly used solutions such as:
Fundraising software to capture your nonprofit's donations and event registrations.
Marketing software like Mailchimp to streamline your email and direct mail strategies.
Prospect research software like DonorSearch to access additional donor insights.
Accounting software like QuickBooks to record and track all financial transactions.
Intentionally connecting your software through smart integrations helps you manage the transfer and storage of your organization's data so you can leverage it in campaigns.
Online donation pages
Create a donation page for your nonprofit's website to capture gifts and contributor information. Your donation pages should offer suggested giving options, recurring donations, and customizable fields to collect donor information.
Your donation pages should also be mobile-friendly. 57% of nonprofit website traffic in 2022 came from users on mobile devices, meaning it's crucial that your donation pages can be easily viewed and completed using a mobile device.
When your donation form integrates with your nonprofit CRM, you can transfer the data you collect directly into the most relevant donor profiles.
Supporter timelines
Timelines give a visual representation of specific donors' engagement. You can easily see when donors have given, volunteered, attended an event, or interacted in any other way with your organization chronologically without searching through cluttered lists. The feature provides further context into each donor engagement.
Plus, the best timeline features will also provide highlights of key interactions so that the most important information is easily accessible. These highlights may include the lifetime value of the supporter, the number of years they've supported your mission, and the rate at which they're increasing their donations.
Customized reports
Reports provide an in-depth view of your nonprofit's progress toward your goals. Customized reporting features make it easy to create reports based on your specific goals. Plus, you can even save report templates so you can pull the same type of information from quarter to quarter. Then, compare data over time, allowing you to constantly find optimization opportunities for your various strategies.
The best nonprofit CRM software will provide you with pre-built reporting templates that you can use in addition to custom reporting features.
9 of the best nonprofit CRM solutions available
Start compiling potential CRM solutions by reviewing the following top options for nonprofits:
Bloomerang
Bloomerang is dedicated to helping nonprofits build relationships with their supporters, raise funds, and ultimately retain more support year after year. This solution was designed by industry experts and consultants who are familiar with nonprofit challenges and how technology can address those roadblocks.
This nonprofit CRM is dedicated to tracking and enhancing engagement to boost retention, decrease attrition, and increase revenue. Bloomerang's unique donor management features include:
Robust donor profiles customized and built to meet your organization's exact needs
Social listening, a handy tool that enables you to monitor your organization's social media presence
Smart reports that are configurable to highlight the most relevant information for you and your stakeholders
An engagement and generosity score to help identify your most engaged donors with a high giving capacity
Peer-to-peer fundraising and crowdfunding functionality to expand your digital fundraising efforts
Integrations with top solutions like Qgiv, QuickBooks, Mailchimp, TrueGivers, DonorSearch, and Fundraise Up
Bloomerang's pricing model scales up at small increments, ensuring affordability for all nonprofits.
Salesforce
Salesforce is used by both for-profit and nonprofits alike. Nonprofits can configure the software for donations rather than sales by downloading the Nonprofit Success Pack (NPSP). Then, they can further configure the software with various apps and integrations to serve the strategic needs of your organization.
Features native to the Salesforce CRM software include:
Customizable donor profiles

Program management features to use the CRM for more than just fundraising

Out-of-the-box reports and personalized dashboards to choose from
Learn about Salesforce's pricing here. Keep in mind that migrating to, implementing, and customizing the Salesforce platform may require asking a nonprofit tech specialist for assistance. This can quickly run up the cost, unlike alternatives that come with all the donor management features you need already built into the system.
Blackbaud Raiser's Edge NXT
Blackbaud offers two different CRM solutions depending on the size of your organization. Blackbaud CRM is an enterprise-level solution built to manage data for large-scale organizations. Raiser's Edge NXT is designed to meet the needs of mid-sized and growing organizations.
Blackbaud's Raiser's Edge NXT solution includes features like:
Cultivation tools to discover hidden talent and potential in your donor database
Built-in analytics to identify new opportunities and draw insights from your data
Data enrichment services to learn more about your donors and prospects
Built-in dynamic email campaign capabilities
Similar to Salesforce, many organizations find that they may need some expert help migrating data to and from Blackbaud and configuring the solution to meet their exact needs and expectations. Reach out to Blackbaud to learn more about pricing for these different solutions.
Neon
Neon CRM is designed to help nonprofits grow, inspire their audience, and increase supporter engagement. This CRM is accompanied by fundraising, advocacy, and marketing solutions.
Some of the core features of this CRM solution include:
Donor and volunteer profiles and relationship-tracking tools
Supporter segmentation and email marketing
Customized online stores to sell nonprofit merchandise
Grant management and tracking options
NeonCRM's pricing packages start at $99 and scale up for additional features.
DonorPerfect
DonorPerfect allows nonprofits unlimited user access to their comprehensive nonprofit CRM software. You can store data in detailed profiles, build relationships, boost fundraising efforts, and automate various activities for your organization.
Features included in DonorPerfect's CRM software include:
Internal DonorPerfect payment processing, allowing you to collect your funds faster
Customizable donation forms that capture supporters' attention and encourage them to give
Time-saving automation tools such as seamless marketing personalization and scheduled reports
DonorPerfect's pricing packages start at $129 per month.
Keela
Keela's nonprofit CRM platform prioritizes improved donor management, enhanced stakeholder engagement, and efficient fundraising.
Notable features of this platform include:
Data analytics tools to predict donors' next actions
Powerful segmentation tools that further personalize donor communications
Automated welcome series for new donors to provide a positive first impression
Keela's pricing starts at $134 per month.
CharityEngine
CharityEngine offers all-in-one nonprofit software. In addition to comprehensive donor profiles and data-tracking technology, they offer other built-in solutions that help organizations with marketing, advocacy, fundraising, and more.
Some of the most notable features of this platform include:
Customized donation pages, built for mobile responsiveness and engagement
PCI-certified payment processing solutions for secure payments
A user center, allowing nonprofit supporters and donors to control their engagement experience
Direct mail and email marketing campaigns that make it easy to reach your ideal supporters
Standard CharityEngine pricing plans start around $300-$700 per month.
Giveffect
Giveffect calls its platform a "10-in-1 nonprofit software." The solution offers tools for everything from volunteer management to marketing and communications and online giving.
Features of this nonprofit CRM include:
360-degree constituent views, with information about donors' giving histories, event attendance, wealth, and more
Automation features that allow you to send personalized thank-you notes and invitations
Custom donor groupings to make records easier to locate
Pricing starts at $399 per month for the starter plan.
NationBuilder
NationBuilder offers "human-centric technology" for nonprofits to better understand their supporter audiences. The software includes a CRM, along with additional tools like a website builder, communication platform, and a fundraising solution.
Notable aspects of NationBuilder's nonprofit CRM include:
Tags you can add to supporter profiles to track engagements, such as event RSVPs or donations
Filters to browse your database more efficiently and find the right audiences to target with specific campaigns
Customized supporter journeys that nurture each supporter to build their connection and facilitate additional donations
NationBuilder's pricing starts at $34 per month.
Steps to find and implement the right nonprofit CRM for your needs
With such a wide range of solutions to choose from, how can you find the right nonprofit CRM for your unique organization? Use the following steps to find the platform that best fits your requirements and implement it effectively:
1. Cast a wide net with your initial research.
Develop your list of top potential solutions by:
Thinking through your existing challenges – what do you want out of a CRM solution that you don't have currently?
Using search engines to find additional solutions and further expand your list
Create your list by choosing several top solutions that offer most or all of the features you're looking for.
2. Assess your budget.
Note the costs associated with each solution, including any additional fees that may be required for startup or implementation. We recommend the following tips to make the most of your nonprofit CRM budget:
Invest in a scalable solution. Scalable solutions allow your nonprofit to choose a plan with the features you need at the moment for a lower price. Then, as you continue to grow, you can add additional features to better meet your needs.
Ensure the software pricing is clear. Unfortunately, many software providers try to hide fees related to implementation and training. Conduct ample research so your organization knows exactly what is included in the purchase before you make it. During demos, ask about implementation or migration costs to be absolutely sure you know what's coming.
Ask about training resources for the solution. As your nonprofit grows and develops, you'll need to continue training to ensure your software also reflects your needs. Look for a solution with training resources and customer support that will help you set up your software and maximize your return on investment.
It's worth it to carefully consider your budget up front so you don't end up having to ultimately switch to a different solution and spend more on data migration costs down the line.
3. Finalize your top options.
Once you have compiled a list of possible solutions, it's time to narrow down candidates to find your nonprofit CRM. The following questions should help:
Research the features available from each nonprofit software solution. Do these features meet the immediate needs of your nonprofit?
Consider your nonprofit's future goals and plans. Does the provider offer scalable features to meet those down-the-line needs?
Is the software within your nonprofit's budget?
Will you be able to try the software out during a trial period before investing?
Will an implementation team help you set up the solution?
Does this implementation cost extra?
Do you have access to training materials to use the software to the best of your ability both now and in the future?
Be sure to request a demo for each of your top options, and don't be afraid to ask questions along the way. Here are some questions you may consider asking:
Is this software available offline?
Are there internal controls to ensure data security?
How often is the software updated?
Who are some of your other customers?
What is the real cost breakdown of this solution?
Taking notes during each demo will come in handy as you compare similar solutions to make your final decision.
4. Make a decision with the help of key stakeholders.
Make sure to run the nonprofit CRM software decision past your fundraising team, who will be working with the solution daily. You'll need enough information to make a solid case to advocate for your software choice. Consider their input and feedback about the common pain points they face in your current system and the potential drawbacks they see for your top options.
Your entire team may not agree with your final decision, and that's okay. Address any remaining reservations and ask team members to fully commit to your new solution once you've landed on it. This will help the transition go more smoothly.
5. Create an implementation plan.
Once you've made your choice, your job isn't done! You'll need to develop a nonprofit CRM implementation and training plan. The plan should look something like this:
Set a goal for when you want the system to be fully operational.
Work closely with the implementation team and don't be afraid to ask questions.
Ask for support when you need it. Make sure you take advantage of unlimited email and chat support from a provider. Or, call when you need to.
Consider implementation consulting. Even for a small fee, sometimes implementation consulting is absolutely worth it and can make all the difference in your use of the nonprofit CRM.
Create a step-by-step plan with specific deadlines to reach full implementation of your nonprofit CRM. Do your best to adhere to these deadlines. That way, you can quickly get back to connecting with supporters and growing your audience.
6. Train your team on your new system.
Host several training sessions to get team members up to speed on the new platform. Give access to training materials that team members can use at any point if they need a refresher.
Wrapping up
Nonprofit CRM software is the backbone of effective nonprofit strategies. It's where you collect, organize, and store important information that will power your fundraising initiatives. Choosing the right software is, therefore, an incredibly important decision to make.
To dive deeper into the topic, check out these additional resources: