Many nonprofit professionals greet nonprofit annual report creation with groaning and moaning. This is because these reports have a bad reputation. These reports considered a time suck and poor use of funding. 
However, it doesn't need to be that way! Your nonprofit annual report, when well-crafted, can be a vital tool to retain and grow gifts from your donors. 
This article is a guide to help transform your annual report into this helpful tool. We'll walk you through tips to make your nonprofit annual report as effective as possible (with helpful templates along the way to provide formatting examples). 
Without further ado, here are the tips we'll be covering in this guide:
Ready to dive a little deeper into nonprofit annual reports and how they can be used to help your organization? Let's get started. 

1. Your nonprofit annual report should support a larger strategy. 
Annual reports frequently go astray when they're treated separately from the rest of your nonprofit's strategy.
Don't just create your annual report for the sake of creating it. 
Your annual report should always have a dedicated purpose behind it, supporting your greater strategy as an organization.
Consider your nonprofit strategies and how your annual report can support those strategies. For instance, when it comes to your donor retention strategies, you should use your nonprofit annual report to: 
Remain transparent about financials.

Donors respond positively to the truth about your financials. Be sure to explain exactly what their donations are funding, including your projects throughout the past year, campaigns accomplished, and constituents served. 

Provide donors with hope for the future.

Encourage your supporters to dream with you and invest further in the world you're creating together. Discuss how your past projects fit into your future plans and how you'll continue to accomplish goals.

Show appreciation for your supporters.

Your supporters are the reason you've been able to accomplish so much in the last year. Therefore, show them the appreciation they deserve. Try highlighting top contributors and partners who helped you throughout the year. 
Consider what it is you're trying to accomplish with your nonprofit annual report. Then, come up with specific strategies that will help you accomplish those goals. Donor retention is one of the most common strategies supported, but your annual report can be used for much more. 

2. Create a donor-centric nonprofit annual report. 
As you write your annual report, the temptation might be to use the document as a platform to brag about all that your organization has accomplished. However, this won't be enough to capture and keep the attention of your supporters. 
As you write your nonprofit annual report, be sure to make sure it's a donor-centric document. 
This means you must meet donors on their terms, delivering the right message in the right format at the right time. In order to do so, consider the following strategies: 
You may have some donors who you classify as "more is more" donors. These are the supporters who want all of the details about your organization's efforts as soon as possible. These are the donors who will value and appreciate a full book-like style of an annual report with all sorts of stories, and information. 
You may also have some donors who classify as "less is more" donors. These are the supporters who won't sit down to read your newsletter, much less a lengthy annual report. You may consider sending a single page of infographics rather than a full report to these donors. 
Use you-attitude throughout the document. 
You-attitude is all about putting accomplishments in terms of your donors rather than your organization. Try to keep them at the center of the subject matter at all times. For instance, compare the following sentences: 
Versus
The second sentence uses you-attitude and is more likely to hold the attention of your supporters throughout a document like your nonprofit annual report. It's a subtle shift, but one that lets the donor know you're truly grateful for their support. 
Create visuals to feature important metrics and information. 
It can be overwhelming to pick up a large packet of information that's simply pages and pages of 12 point Times New Roman paragraphs. Instead, break up the information with infographics, images of supporters and volunteers, branding, and other interesting graphics. 
Visuals make it easier for supporters to scan through your nonprofit annual report and pull out the data that means the most to them. Plus, it makes the content more engaging and enjoyable for the reader. 

3. Consider the nonprofit annual report requirements. 
Every year, nonprofits are required to submit a Form 990 to the IRS. This document contains information about your nonprofit's revenue and expenses throughout the year. Because this information is publically available, your nonprofit's annual Form 990 can be used by supporters to track your financial transparency. 
Technically, in many cases, the annual Form 990 is the only required annual report for nonprofits. However, your Form 990 doesn't thank your donors, make them feel proud, or give them new reasons to engage and grow their relationship with you.
You might not be technically required to file an annual report other than your Form 990. However, it can be incredibly helpful for your nonprofit to engage and provide additional context for supporters. 
If you do decide to create a full-fledged annual report, your nonprofit should be sure to include the following elements:
Your organization's mission statement.

Feature this

mission statement

at the very beginning of the document. This will provide context for those who may not be as familiar with your organization and serve as a reminder to those who are. 

Nonprofit financial information.

Again, be as straightforward with these numbers as possible for transparency with your supporters. Supporters want to know where their dollars are going, so show them that your nonprofit is responsible with its funding. 

Projects from the year.

This is your time to explain your nonprofit's accomplishments. What projects did you start? What did you finish? What still needs to be done in order to reach your nonprofit's goals? 

Appreciation for your contributors.

This is a great opportunity to acknowledge and show appreciation for your nonprofit's major donors. You can also thank key patrons like volunteers and board members. 
While you may not be entirely required to file a nonprofit annual report, you are held accountable by the expectations of the document. For instance, if you completely omitted your financial information from your report, supporters may consider it fishy and it could hurt the trust you've built up with them. 

4. Choose a nonprofit annual report platform.
The traditional nonprofit annual report is a book-length document. While we'll jump into some additional potential platforms in a minute, we want to take some time to remind you that these lengthy reports aren't a waste of time and energy. 
Some donors, especially those "more is more" donors, want a lengthy description explaining everything your nonprofit has been up to. 
For example, there are people like Warren Buffet who invested in IBM because they had sent him a printed annual report. "He said he had been impressed by IBM's road map," the BBC reported after the $10.7 billion investment was announced.
Book-length reports provide the time and space that your nonprofit needs to sell the vision of your organization so that people like Warren Buffet will feel compelled to give. 
A True Story
There's also the true story of the accidental endowment. In this story, The Rhode Island Foundation published a well-designed, well-written report. They cut down on the number of reports they mailed directly (the report is available online) but made sure to continue sending the paper version to some local lawyers. 
An elderly man walked into the office of one of these local lawyers, prepared to write a will and get his affairs in order. While he waits to be seen, he picks up one of the copies of the Rhode Island Foundation annual report. He hadn't quite known what to do with his sizable estate before that moment. Years later, upon his passing, the Rhode Island Foundation received a small fortune from that generous man, all thanks to a printed annual report. 
However, that doesn't mean you shouldn't adapt to the times. Analyze your audience and create your annual report according to what they're most likely to respond to. Remember that you can always post your full report online. Some other unique ideas may include an annual report in the form of a large postcard, a self-mailer, and a video.
Large Postcard
Large postcards are designed to be shorter so that supporters can quickly and easily skim the report rather than read a lengthy document (or book). Therefore, it shouldn't be your goal to jam pack this postcard with all of the information possible. Instead, you should design your large postcard to: 
Convey impact and results.

Due to limited space, you may need to pick and choose the best and most important metrics to highlight. However, this is the opportunity for your nonprofit to show the world what good you've done in the last year. 

Graphically display important information.

Make sure the information is easy to read. Charts, graphs, and large numbers help draw attention to the most important aspects of the postcard. 
With this style, you may not have the opportunity to highlight your major donors. However, in order to encourage donors to read the content, you need to cut something. 
You can send this postcard through direct mail and email. You may also choose to post it on your website or on social media in order to reach a greater audience. 
Self-Mailer
Another option is a 2-4 page report structured as a self-mailer and sealed with a wafer seal. Self-mailers can be incredibly helpful because you don't require the supporter to physically open an envelope. It's easy for them to simply open the mailer and read what's in the document. 
When you design a self-mailer, you should be sure to: 
Include action steps a donor can take to be more engaged.

This means the mailer won't just get lost with the rest of the supporter's junk mail. They'll feel compelled to do more with it. 

Use plenty of pictures.

Break up the text with images that will engage your reader without distracting them from the copy. Be sure the whole mailer is visually compelling and not overwhelming to the reader. 

Keep copy concise.

You have more space with a mailer than a postcard, but it's still limited. Condense copy to make sure it's concise and you cover all of the important aspects of the report. 
While this type of nonprofit annual report is designed to be mailed, make sure to also ask for a PDF version when you get it printed. This will allow you to also email it to your donors for those who may miss it in the mail. 
Pro tip: Double-check that the size you choose complies with the US Postal Service's regulations. 
Video
A well-designed, compelling video is a great way to not only tell your supporters about the impact they made but show them as well. However, to make sure the video will be well-crafted, your nonprofit should: 
Be picky about your videographer.

Carefully examine their past videos. If they don't make you laugh and cry, move on. Video annual reports need to be professional in order to make an impact on your supporters. Home movie quality just won't cut it. 

Follow a prepared script. Get your best writers to craft the script to say everything you need to say. The other shots in the video will support the speaker's words. 
Use relevant footage.

If your organization focuses on clean water, then show footage of rushing rivers and streams. Use the video to it's fullest potential by including maps when discussing location or by featuring videos of volunteers when you discuss their involvement. 
Here's an example from the World Wildlife Fund that is terrific. 
Video nonprofit annual reports are limited to digital formats. While some organizations may not find this to be an issue due to a young, technologically savvy audience, it may not be the best choice for all nonprofits.
Consider your own nonprofit audience and what format they will respond best to for an annual report. 

5. Choose compelling visuals for your nonprofit annual report. 
When it comes to images and visuals on your annual report, you need to put quite a bit of thought into the choice. You can't just choose the first image you find and slap it on the report. 
Instead, when you're choosing graphics, your nonprofit should be sure to: 
Prioritizing branding the report to your nonprofit.

Your entire annual report should flow together cohesively. This means you should make sure your logo is prominently displayed and that your usual colors and fonts are used throughout the whole document.  

Diversify the type of images you use.

Instead of only including

photos of your constituents or staff

, diversify your images to help convey more information. For instance, pie charts are a great opportunity to display financial allocations and statistics graphics help draw the reader's eye. 

Keep donors engaged.

Don't overwhelm your readers with too much text or too many images. Rather, there should be a healthy balance of text to images and graphically displayed text in order to best engage your supporters. 
Images should never be distracting. They should be helpful guides when it comes to conveying the important information within your nonprofit annual report. 
Ask for volunteers to review the document and provide feedback on the imagery used before you send it out. Or, you might hire a graphic designer to help put all of the information together in a visually compelling way. 

6. Be honest and appreciative in your nonprofit annual report. 
Honesty really is the best policy, especially on your nonprofit annual report. 
Sometimes things don't go as planned and you may not reach a specific goal or complete a certain project. However, if you try to cover up these mistakes, you'll lead yourself down a path of distrust with your supporters. 
Instead, if you have had a mistake within the last year, briefly mention it in the annual report. Then, be sure to follow it up with a game plan to correct the mistake and show your donors that you're being proactive and taking a positive approach. 
You should make sure to address information such as:
What the setback was and the cause of said setback. 

Data-informed changes you're planning on making to address the issue at hand. 

How and when the setback should be addressed in the future. 
In addition to honesty about financials, projects, and setbacks. You should make sure to honestly and genuinely thank your contributors in your nonprofit annual report. 
Yes, we've mentioned this a couple of times, but only because it's so important to appreciate supporters. Highlighting overachievers in your report does two different things: (1) It shows your gratitude for those who go above and beyond to support your nonprofit and (2) it gives other supporters something to strive for. 
Just like a donor recognition wall, when supporters see others congratulated, they'll naturally feel inspired to give more and receive the same congratulations on the report in the future.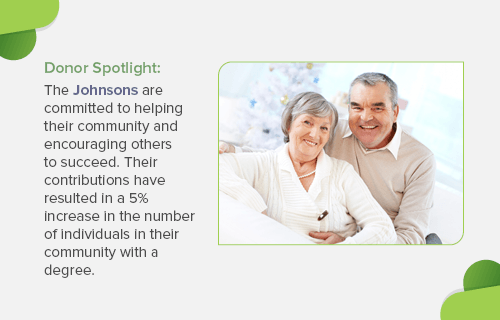 7. Use your nonprofit annual report to look forward. 
Remember what we said about Warren Buffet? He invested in IBM because he was impressed by their plan for the future. 
Providing information about your future plans and projects will get people excited about what's in store for your nonprofit. 
When looking forward, make sure to touch on the future by: 
Reminding supporters about goals in progress.

For example, you might provide an update as to whether or not you're on track for the goal started in 2018 and scheduled to finish in 2022.

Get donors excited about the next long-term project for your organization.

Explain how one project has led your team to the next one. Did you receive inspiration? Did past activities open up an opportunity for the future?

Tell your donors about it! 
Forward-facing planning excites your donors and inspires them to continue giving in the future. 
Make sure that after you've provided input about your future plans, you also provide the opportunity for your supporters to act on it. Provide some action items such as donating, attending a meeting, and registering for an event in the coming year so that they can show their support. 

8. Consider nonprofit annual report templates to inspire formatting.
Ernest Hemingway compared a blank piece of paper to a white bull. It's intimidating and hard to get started on a project when just looking at a blank page. That's why it can be so helpful to have access to templates and examples to help get you started on your nonprofit annual report. 
In addition to all of the images and examples throughout this article, we also want to link you to three of our favorite nonprofit annual reports. You can find those below:
These examples show how creative you can be with your annual report and the different templates you can use to design it.
---
People do read nonprofit annual reports! Ensuring yours is engaging and educational for your nonprofit supporters will go a long way for your organization's relationship with them.
The templates and examples throughout this article should help your nonprofit get started making your annual report the best it can be. Good luck!
If you're looking for more information about donor communications and effective resources, check out the articles below: