The organizations listed below believe in Bloomerang, and recommend our software to their clients. These are the recommended consultants that we trust. Questions about our partners? Just ask Steven!
Author, coach, copy-writer, nonprofit marketing consultant and political junkie, Pamela is the author of "Five Days to Foundation Grants" and the creator of Simple Development Systems, the only online coaching program created for the overwhelmed fundraiser in the one-person marketing and development shop.
Lori L. Jacobwith is a nationally-recognized master storyteller and culture change expert. With more than 25 years' experience, her strategies and coaching have helped nonprofit organizations raise $250 million dollars from individual donors. And counting. The Giving Show has recognized her as one of the top 40 most effective fundraising consultants in the U.S.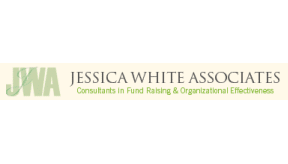 By providing counsel to nonprofit organizations, Jessica White Associates helps its clients energize fundraising efforts and enhance organizational effectiveness. With more than 32 years of experience in all facets of fundraising, Jessica has provided expertise to all types of nonprofit organizations.
Having amazing talent is the #1 competitive advantage in your business, your institution or your organization. Yet, we treat talent as a nuisance and necessary expense to be controlled instead of an investment to grow. And somehow, complaining about the talent problem has become enough of an effort to solve the talent problem.
I'm determined to help more people stop struggling with being an effective manager and leader and focus on building that talent muscle. And it doesn't stop in the office. You carry YOU with you everywhere you go!
 Since 2003, A Direct Solution has been providing development support for small to mid-sized nonprofit clients in need of high-level fundraising executive services. They offer solutions that translate into into long-lasting management strategies by providing expertise in direct marketing and fundraising development, database analysis, as well as acquisition, renewal, and upgrade strategies. 
Antionette Kerr is a nonprofit leader, contributing journalist, author, and lover of poetry who has spent over 20 years working as a leader of nonprofit agencies that focus on economic empowerment. Her work has helped bring more than 6 million dollars in local, state, federal and private funds and donations.
The INS Group is a seasoned consulting firm that helps nonprofits, government agencies, and faith-based institutions create innovative solutions to build their capacity, sustain programs and services, and plan for the future.
Since 1999, we have worked with more than 150 agencies and organizations nationwide to provide high-quality consulting, strategy, and training services. Our diverse team has decades of experience in fields including grant writing, marketing, organizational development, public-private partnerships, intergovernmental management, and research.
A one-size fits all approach is not innovative nor will it help your nonprofit reach its full potential. We incorporate strategy with innovation to provide a unique and customized experience for each and every client. Our boutique firm works collaboratively with you to help develop strategies that are tailored to your mission, culture, and challenges.
 Kristal M. Johnson is an international speaker, trainer and author. She has coached & trained thousands across North America, Europe and Africa to collectively raise $200 million from funders and individual donors over the past decade. Kristal empowers people to be assertive and fundraise without fear. Because of first-hand experience, both in nonprofit development and marketing, she is a sought-after speaker and content producer for many organizations, including international grant consultancy firms and economic development councils.
Dr. Beverly Browning, CSPF, founded Bev Browning, LLC to provide planning-focused nonprofit capacity building services worldwide. These services include: board training, funding research and engagement strategies, grant writing, and strategic compression planning. Her nonprofit Grant Writing Training Foundation provides affordable on-site and web-based workshops.