Mary Cahalane is an accomplished development professional with 28 years of success. Creative, focused, intuitive and collaborative – she helps you forge lasting relationships for your organization.
Services Offered
Annual giving, Donor communications, Fundraising assessments
Location(s)
Plantsville, CT
*Jessica White Associates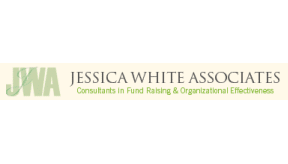 By providing counsel to nonprofit organizations, Jessica White Associates helps its clients energize fundraising efforts and enhance organizational effectiveness. With more than 32 years of experience in all facets of fundraising, Jessica has provided expertise to all types of nonprofit organizations.
Services Offered
Annual giving, Board development, Capital campaigns, Feasibility studies, Strategic planning
Location(s)
Indianapolis, IN
Brian Lacy and Associates is a fundraising and data services firm with more than 30 years of experience that provides leading industry resources and veteran talent to maximize what your team can do across the giving spectrum.
Services Offered
Annual Giving, Wealth Screening, Data Cleansing, Marketing and Communications
Location(s)
Houston, TX
Smart Annual Giving helps small nonprofits create systematic, strategic annual fundraising programs by incorporating simple, effective techniques to recruit, renew, engage, and upgrade donors.
Services Offered
Annual Giving, Campaigns, Appeals
Location(s)
Raleigh, NC
Additional Annual Giving Resources