It's not a stretch by any means to say that major gift fundraising is an art and a science. Researching, cultivating and asking (and asking and asking) prospects is a tough gig – even when it's your only responsibility, which it seldom is.
We wanted to know how fundraisers approach major gifts, so we asked our friends and followers. You can view the results of our non-scientific (but fun!) survey below.
Findings:
Most nonprofit organizations do not have a full-time major gift fundraiser or a major gift strategy, despite considering major gifts vital
Most nonprofit organizations look to their current donors as major gift prospects
Most nonprofit board of directors are disconnected from major gift fundraising activities
Most major gifts are only occasionally tied to a project
Those organizations not doing major gift fundraising cite a lack of investment in manpower, expertise, strategy, etc. as the primary reason
Raw Data:
How many full-time major gift fundraisers does your organization employ? (they have no other responsibilities except major gifts)
0 (it is the responsibility of multiple fundraisers/execs in the org): 67.54%
1: 17.06%
2: 6.19%
3-5: 5.36%
6-10: 2.20%
11-50: 1.10%
50+: 0.55%
Does your organization have a major gift strategy?
You bet: 41.13%
Not really: 58.87%
How many major gift donors does your organization currently have?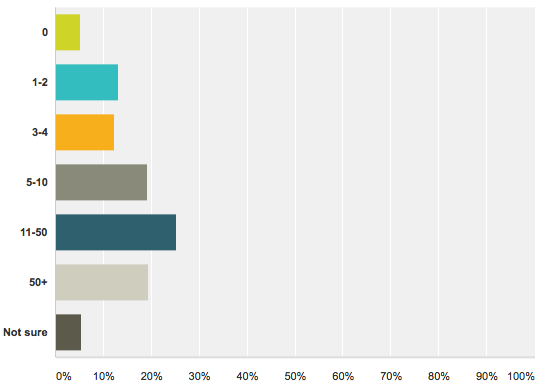 0: 5.23%
1-2: 13.07%
3-4: 12.38%
5-10: 19.26%
11-50: 25.31%
50+: 19.39%
Not sure: 5.26%
Are major gift acquisitions a vital part of your fundraising strategy?
We don't pursue them at all: 11.28%
We go after a few, but we don't really rely on them: 35.35%
Multiple major gifts are absolutely vital: 53.37%
In terms of gift size, what constitutes a major gift for your organization?
Greater than $500: 8.39%
Greater than $1000: 43.74%
Greater than $10000: 35.90%
Greater than 100000: 4.54%
$1M or more: 0.28%
We've never really defined it: 7.15%
How do you identify a major gift prospect? (choose any that apply)
Current engaged donors in our database: 90.65%
Wealthy members of our community: 52.54%
Wealthy philanthropists who have given to similar causes: 46.08%
How involved is your board in major gift fundraising? (choose any that apply)
Helps identify prospects: 42.50%
Helps make introductions to prospects: 38.93%
Helps cultivate prospects: 30.67%
Helps make the ask: 26.69%
Helps make gift acknowledgements: 22.56%
Our board doesn't really help much: 50.76%
How do you designate major gift funds when making an ask?
Always undesignated: 12.65%
Occasionally tied to a project: 66.44%
Always tied to a project: 20.91%
If you aren't doing major gift fundraising, why not? (choose any that apply)
Lack of time on our part: 48.72%
Lack of investment on our part (manpower, expertise, strategy, etc.): 75.32%
Lack of suitable projects: 8.01%
Our donors don't have capacity: 9.94%
Methodology
The survey was distributed via email and social media between 2/4/15 and 2/9/15
Technology utilized: SurveyMonkey
At least 727 unique organizations responded
Respondents remained anonymous
How do your major gift fundraising efforts compare to these results? Let us know in the comments below!
Learn More
Add DonorSearch to your Bloomerang account!
Powerful Philanthropic and Wealth Screening
Learn More